Inherits QWidget.
HDebugConsole is a debug/info console with a limited sql console and internal command line functionality.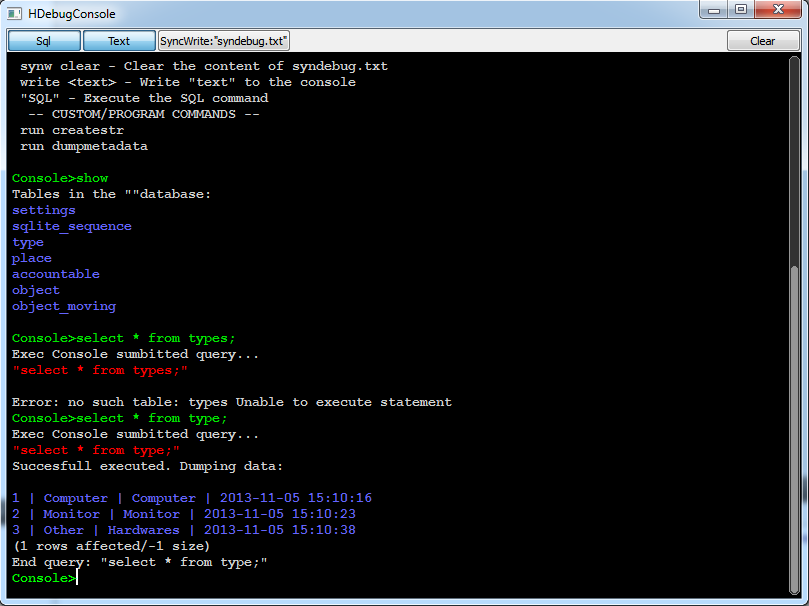 This DebugConsole is a console window designed to work separatedly from any other window or dialog. You can popup or close this stuff everywhere in the program code. It works 100% independent from other codes.
If you want to use this debug console without gSAFE, you only need to add dconsole.h and dconsole.cpp to your project. They doesn't require any other gSAFE parts.

You can use static global functions to start/stop this console dconsole() and dconsole_close()
You can send debug messages from everywhere with sdebug(QString) and sqldebug(QString) or alternatively you can send debug messages standard Qt way with qDebug. (see example below)
You can place sdebug("Debug message") and sqldebug("Sql command") functions everywhere in the program. You don't need to comment out these after the debugging. If there is no active debug console, this functions exits immediately. It means that if you don't start the console this command does nothing and don't slow down your program.
You can run SQL command from this console.
The console has a "show" command which can shows the tables of the database, and describe the table definitions of a specified SQL table.
You can register your own functions as a command with register_dconsole_command() function.
HDebugConsole can run in synchron write function. (Immediatly write every text to a log file with sync)
An example to start console, and send some debug message:
...
dconsole();
...
sdebug("First phase passed.");
...
sdebug("N-th phase passed.");
The HDebugConsole grabs the Qt's qDebug messages so you can see the Qt system messages/warnngs/errors
The following messages are goes to the HDebugConsole (when opened):
...
qDebug() << "Start processing";
...
qWarning() << "The string is:" << obj.toString();
...
You can easely use this console in your project by adding dconsole.h and dconsole.cpp to your project file.
If you don't need the Sql functionality, so you would like to drop the QtSql dependency define the DCONSOLE_NO_SQL macro in your project file:
#define this below to stay Sql independent.
DEFINES += DCONSOLE_NO_SQL
#define this below if you use 4.X version of Qt (Not Qt 5.X)
DEFINES += COMPILED_WITH_QT4X


Current available commands (Console "help" command output):
Console>help
alldb - Show all available database connections
clear - Clears the debug window's text
close - Close the debug window (only)
dbinfo - Show the current connected database information
disable <filter> - Disable the "filter" kind of output
enable <filter> - Enable the "filter" kind of output
exit - Exit main program (The debugged program too)
filters - Show available debug filters
help - List the available commands
run <custom> - Run the "custom" program command
save - Save the content of debug window to debug.txt
setdb - Sets the current database to default (not the program but console)
setdb <dbname> - Sets the current database to "dbname"
show - Show all table in the current database
show <tablename> - Show the fields of table named "tablename"
state <filter> - Show the state of the "filter" kind of output filter
synw - Query the state or clear the content of syndebug.txt
synw off - Disable the writing of syndebug.txt
synw on - Enable the writing of syndebug.txt
synw clear - Clear the content of syndebug.txt
write <text> - Write "text" to the console
"SQL" - Execute the SQL command
Definition at line 175 of file dconsole.h.